Companies in Europe are eagerly embracing Agile ways of working. They strive to grow their mastery of the Agile concepts in order to deliver greater value to their customers with faster and more robust approaches. However, across the board, Agile is still in its infancy, and in their route to advancement, managers, Agile coaches, tribe leaders and scrum masters face a range of challenges that often slow down their journey. Reversing old patterns, adopting an integral approach, and not being held back by the change paradox are examples of anchors that slow down momentum, according to experts on the matter.
The digital era is characterised by demanding customers, a competitive pressure to innovate, and the need to shorten time-to-market. Organisations of all shapes must respond to this complex and dynamic marketplace by reinventing their ways of working. One approach they are increasingly using to achieve this is through adopting Agile principles and derived ways of working, building on flexibility and adaptability to manoeuvre swiftly and so enabling them to harvest new market opportunities.
The rise of Agile
The adoption of Agile principles, leveraging methods and scaling frameworks like SAFe, Nexus and LeSS, is at the moment one of the most popular ways to bolster productivity. Agile traces its roots back to the early 2000's, when the 'Agile Software Development' Manifesto was introduced by a group of seventeen software developers in the U.S. Since then, the approach has gone mainstream, growing from its traditional terrain of software and ICT to all areas of business change and project management, including innovation, design thinking, technology deployment and change management.
At the heart of the Agile concept is the idea that teams deliver incremental chunks of value in short iterations. Next to that, they create a high level of transparency through fast feedback loops, enabling fast decision-making. Agile advocates adaptive planning, evolutionary development, early delivery, continuous improvement, and encourages rapid and flexible response to change. Central in the approach are self-organising, cross-functional and multi-skilled teams.
The theoretical benefits of Agile are by now well-known. Agile development methodologies enable IT organisations and product developers to collaborate with the business on the production of goods and services. This facilitates a continuous two-way interactive process, rather than simply collecting feature specifications upfront (a 'Big Upfront Design'), and throwing that over the development-fence, as would happen under the incumbent waterfall- or phase-gate development model.
Gerard Speksnijder, a Master Expert at the Digital arm of McKinsey & Company, explained; "Teams can experiment with minimally viable products, test and learn from those prototypes, and ultimately deliver new software features and products in days or weeks, not years."
Building on such advantages, it doesn't come as a huge surprise that a large chunk of organisations are, according to research by VersionOne, a software pioneer in the Agile landscape, today experimenting with Agile practices in programmes and (pilot) projects. Another estimate, by McKinsey Digital, suggests that companies that are deploying Agile at scale have accelerated their innovation by up to 80% last year.
However, in VersionOne's dataset, fewer than 20% of companies utilising Agile consider themselves "mature adopters", with widespread acceptance and use of Agile across business units. In addition, benefits realised from Agile typically range from none to modest, with only a small group of frontrunners positioned to reap the full potential.
Is there an Agile road to agile?
So what is hindering the realisation of benefits? Studies conducted across Europe, including several by leading consultancies, indicate that there are many roadblocks (traditional) companies struggle with in scaling-up their Agile deployment and achieving the promised results. One chief impediment commonly cited is the barriers erected by existing operating models and organisational structures. For example, supporting business processes (e.g. budgeting, planning and outsourcing) and existing roles and responsibilities in both the IT organisation and business units continue to adhere closely to the legacy waterfall approach.
Another common pitfall is that Agile is considered a new Holy Grail to streamline all changes. However, Joyce Thijssen, a Manager at The Agile Coach Company, emphasises that deploying Agile working only makes senses if the situation asks for it. "Agile is often overhyped as a solution for all issues. Directors and managers from all over the business are quick to jump on board. It is for organisations very important to reflect on what they want to achieve and for which issues Agile can offer a true solution," Thijssen said.
Other factors regularly cited as barriers to successful Agile adoption are lack of competencies and skills, insufficient leadership support and ineffective change management throughout the transition to the new way of working. According to Robert Voogt, a Partner at Voogt Pijl & Partners, the latter is a factor that is often overlooked, with large consequences. Voogt explained; "Organising for agility is based on a fundamental change in terms of management, ways of working, responsibility, behavior and alignment. This makes the focus on soft factors and change management essential."
He added that when crafting an integral approach to embracing the change, organisations should not fall in the trap of going for a one-size-fits-all approach. Voogt: "It requires customisation and understanding to deviate at the appropriate moments from the 'manifestos' of Agile working."
In particular for those on the work floor, such as Agile coaches, tribe leaders and scrum masters, it is key that they play a steering role in the change journey. One way of following a tailored approach, according to Rick van Benten, a consultant at Towson, is by going "frameless" from Agile models. "By moving away from the dogmatic implementation of pre-determined frameworks and keeping focus on the real goal of being agile, the approach to change itself can remain agile," Benten said.
The paradox of the slowing learning curve
Yet, even if teams have a grip on all the ingredients to advance in their Agile capabilities, the road to maturity may still face a natural setback, warned Andres Jansen, senior Agile consultant at BlinkLane Consulting. This is because, as with any change, while good performance is rewarded, it also makes the follow up harder. "As maturity grows, the opportunities for further advancement become increasingly difficult to reap," remarked Jansen.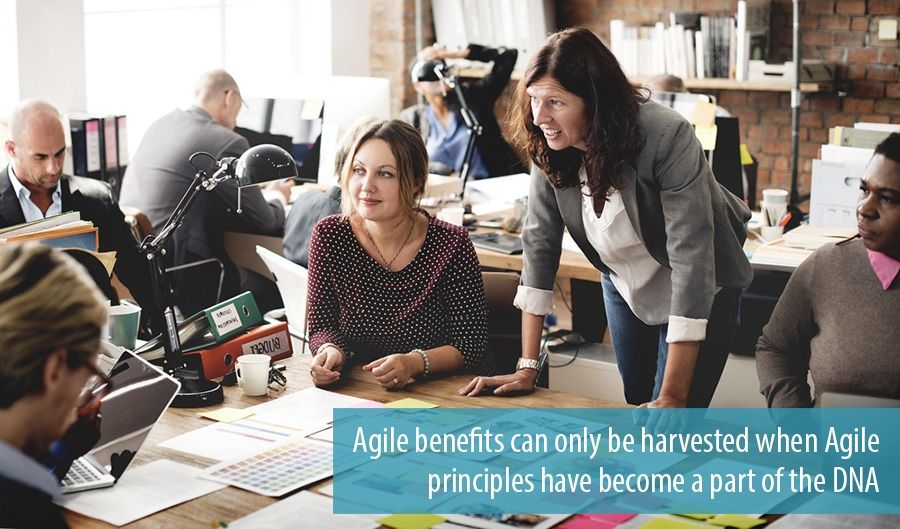 A possible explanation for this is that when adopting agile ways of working, organisations implement new roles and processes and self-organised teams. Although this is inherently challenging, finding improvements at the root is relatively easy. Jansen: "This is the first, relatively easy station to reach in your journey towards Agility: basically doing Agile." This step is necessary, but will not bring the promised gold. He added, "The real benefit will only be harvested when Agile principles have become a part of the DNA, enabling everybody to think and work naturally within a new paradigm."
However, at a certain point of maturity, teams enter a phase where it becomes harder to find new ways to improve, once they have depleted the quick-wins and mastered the early challenges. When newly adopted routines turn into potential habits, teams risk sliding into boredom and the auto-pilot takes over. "This is a critical point to understand, if overlooked, organisations risk falling back to old habits," Jansen said.
To avoid such a fall-back, Jansen advises that Agile teams follow through on transitions, ensuring that the intrinsic motivation dominates above the need to just "execute roles and processes". Embedding "small disruptions" to the work environment can serve as a quick-win. "Try changing the rules of the game slightly for the better; alter the work context and introduce new challenges. Intervening upfront is a more effective remedy than getting out of a sliding status quo," he suggested.